Property Details
Petit Valley,
Offered at $8,500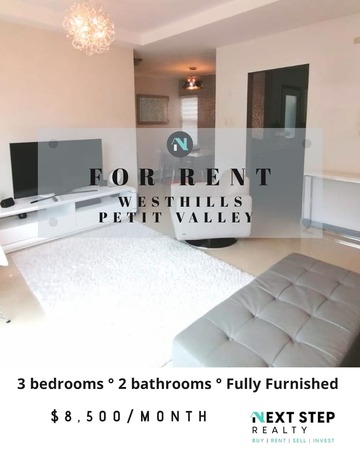 *New Listing FOR RENT*
📍West Hills Urban Community Park, Petit Valley
TTD 8,500 / mth
- 3 Bedrooms
- 2 Bathrooms
- Penthouse / 5th Floor Apartment
- Fully Furnished
- Fully Equipped
- Assigned Parking for 2
This absolutely stunning penthouse unit has been customized to include all the latest bells and whistles! Gorgeous light fixtures, modern kitchen backsplash, custom push-to-open cupboards and seamless shower glass enclosures are just a few of the upgrades that compliment contemporary furniture and stainless steel kitchen appliances to make this apartment feel like HOME.
This unit is move-in-ready and available for rent immediately.
West Hills Urban Community Park is a gated development with 24-hour security, a large swimming pool, tennis court, kids' play area, On My Way Plaza located at the entrance which has a gym, cafe, mini-mart, pharmacy, wine store and more.
For more information or to arrange a viewing, please contact Tricia on 384 5106 or you can also e-mail tricia@nextsteprealtytt.com
#Buy #Rent #Sell #Invest #realestate #realestatett #nextsteprealtytt #apartmentforrent #apartmentlife #apartmentliving #westhills #westhillsdevelopment #petitvalley #newlisting #justlisted #trinidadproperties